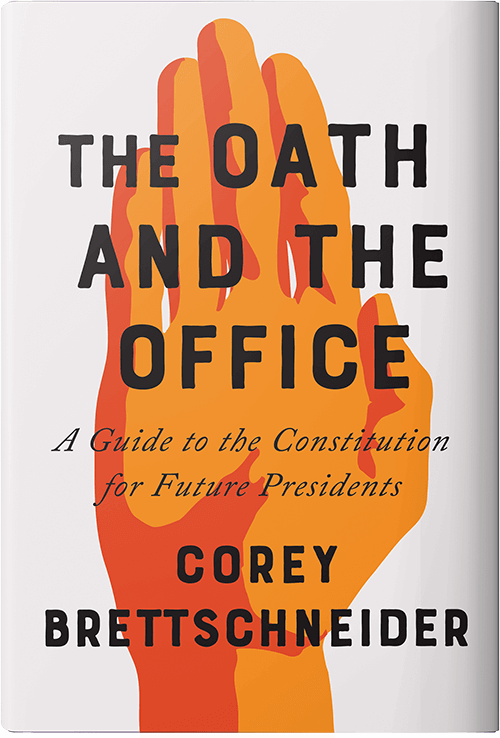 The Oath and the Office
A Guide to the Constitution for Future Presidents
An essential guide to the presidential powers and limits of the Constitution, for anyone voting—or running—for our highest office.
In stores and online now
"A cleareyed, accessible, and informative primer: vital reading for all Americans."
Maybe, after more than two years of President Trump, what we need more than anything is a collective reminder of what we have a right to expect from the occupant of the White House—how a president should behave and what the presidency should be. In that vein, I end this essay by recommending a book that has received too little attention since its publication last year. It's not an impeachment book. In fact, it's a how-to-avoid-impeachment book by a political scientist at Brown University, Corey Brettschneider.
"Brettschneider's book, addressed to a presidential aspirant, begins with the question 'What do you need to know to be president?' The answer: 'Most of all, you need to know the U.S. Constitution.' This framing is one of the book's great virtues: It moves the focus away from the too-common and too-narrow question of what the courts might force a president to do in the name of the Constitution to the more capacious question of how a president herself should understand her constitutional role."
Can the president launch a nuclear attack without congressional approval? Is it ever a crime to criticize the president? Can states legally resist a president's executive order? In today's fraught political climate, it often seems as if we must become constitutional law scholars just to understand the news from Washington, let alone make a responsible decision at the polls.
The Oath and the Office is the book we need, right now and into the future, whether we are voting for or running to become president of the United States. Constitutional law scholar and political science professor Corey Brettschneider guides us through the Constitution and explains the powers—and limits—that it places on the presidency. From the document itself and from American history's most famous court cases, we learn why certain powers were granted to the presidency, how the Bill of Rights limits those powers, and what "we the people" can do to influence the nation's highest public office—including, if need be, removing the person in it. In these brief yet deeply researched chapters, we meet founding fathers such as James Madison and Alexander Hamilton, as well as key figures from historic cases such as Brown v. Board of Education and Korematsu v. United States.
Brettschneider breathes new life into the articles and amendments that we once read about in high school civics class, but that have real impact on our lives today. The Oath and the Office offers a compact, comprehensive tour of the Constitution, and empowers all readers, voters, and future presidents with the knowledge and confidence to read and understand one of our nation's most important founding documents.
"An accessible and lively guide to the president's constitutional powers, essential reading for anyone who seeks to become president—or to hold in check those who do." — David Cole, national legal director, ACLU, and author of Engines of Liberty
"Government of, by, and for the people only works when people understand how it works. Corey Brettschneider's book does a remarkable job of unpacking the modern presidency with precision. A joy to read, a must to understand." — Amy Gutmann, president, The University of Pennsylvania
"An insightful and lively analysis of both the constitutional authority of the president of the United States and of the constitutional constraints imposed on that authority. This work is a critical reminder of the proper role of the chief executive in our nation's system of constitutional government." — Geoffrey Stone, author of Sex and the Constitution
"In The Oath and the Office, Brettschneider explains both the powers of and the limitations on the chief executive, using an engaging and conversational style that any citizen (and hopefully any president) will easily understand. But even when one disagrees with Brettschneider's advice, this book is an important manual for anyone who wants to be president—and most of all for We the People who are ultimately the president's boss." — Linda R. Monk, author of The Bill of Rights: A User's Guide
"No office in American government is more studied than the presidency and no figure in American politics is more closely watched than the president. Brettschneider provides the judgment of a renowned constitutional scholar, dramatic cases, historical sweep, a gift for clarity, and a sense of moral urgency. This is a foothold from which we can survey the dangerous course the presidency has taken and our responsibility as citizens to defend the constitution." — Nancy Rosenblum, Senator Joseph Clark Research Professor of Ethics in Politics and Government, Harvard University
"Those who one day may find themselves behind the Big Desk in the Oval Office need to understand the limits of their power as well as its potential. Brettschneider's cogent and comprehensive user's manual–grounded in sophisticated legal and political analysis—is exactly the right place to start." — Gordon Silverstein, Assistant Dean, Yale Law School
"'When the President does it, that means it is not illegal.' So said Richard Nixon. What then are the limits on Presidential action? Can the President of the United States pardon himself, fire anyone in the Executive Branch, or wage war without Congressional approval? Can California develop a foreign policy on immigration and sign international climate treaties? In an era of rising executive power, Corey Brettschneider provides an essential guide for citizens and aspiring office holders on the powers of the President and how the U.S. Constitution constrains that power." — Rob Reich, Professor of Political Science, Stanford University
Corey Brettschneider is professor of political science at Brown University, where he teaches constitutional law and politics, as well as visiting professor of law at Fordham Law School. He has also been a visiting professor at Harvard Law School and the University of Chicago Law School. His recent writing has appeared in the New York Times, Politico, and the Washington Post. His new book is The Oath and The Office: A Guide to the Constitution for Future Presidents, which Kirkus calls "vital reading for all Americans." Brettschneider is frequently interviewed about constitutional issues on BBC, Sirius XM, and other media outlets. He is also the author of two books about constitutional law and civil liberties and numerous articles that appear in top academic journals and law reviews. His constitutional law casebook is widely used in classrooms throughout the United States. Brettschneider holds a PhD in Politics from Princeton and a JD from Stanford Law School.